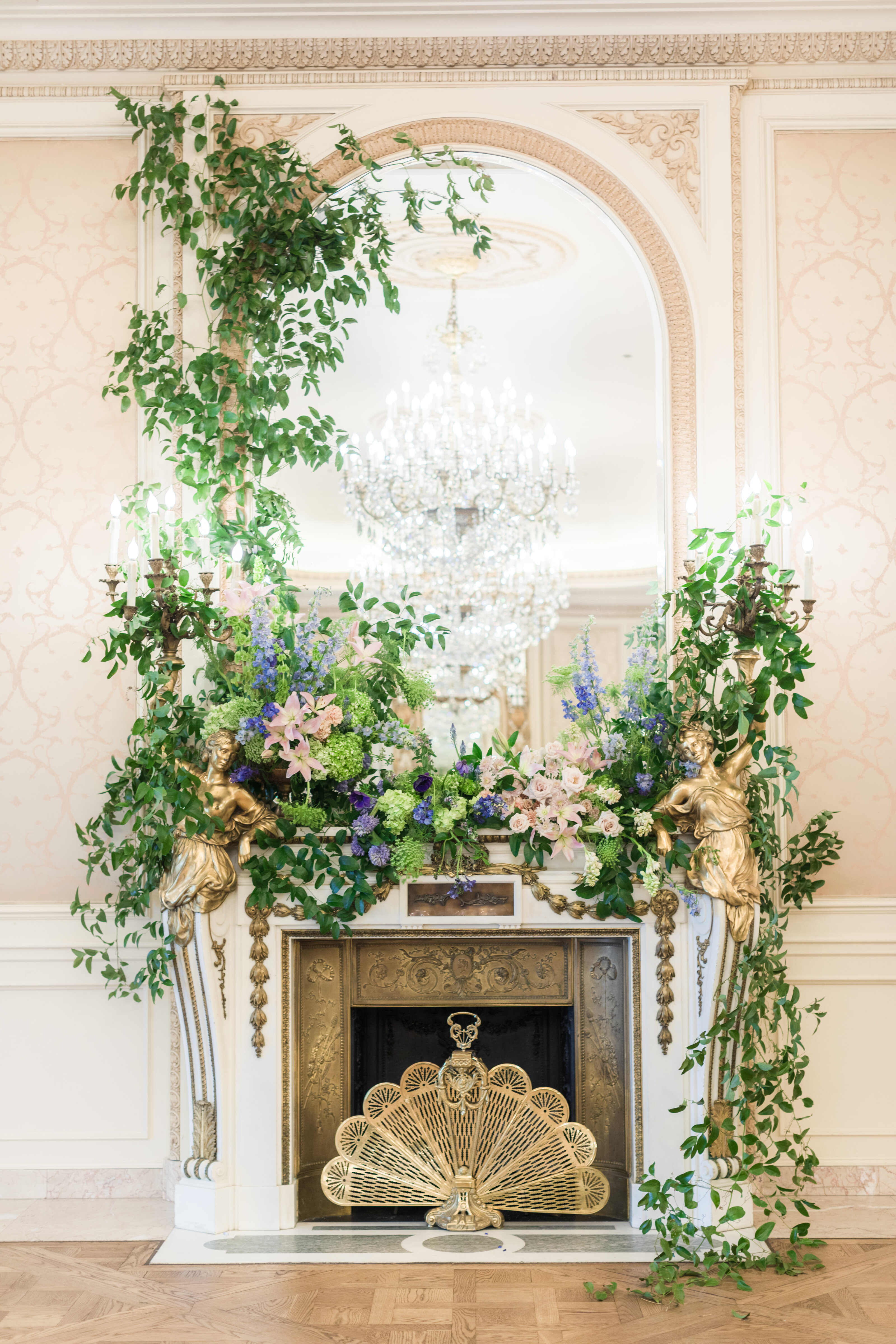 It's safe to say (mostly) everyone has now seen Bridgerton, and if you haven't…what are you waiting for?! This epic team of vendors came together to create this fine art editorial, completely inspired by the Netflix hit, and boy did they nail it! Taking place at The Westgate Hotel in San Diego, you are instantly transported to the English Countryside with its exquisite details and charm. Add in a variety of blue and purple florals by Tularosa Flowers, not one but two stunning bridal gowns, and elegant table settings all planned by Love Always Planning and you have a wedding set for a Duke and Duchess! Check out Carrie McGuire Photography's dreamy images and even a few fitting cocktail recipes to really get you inspired!
From Carrie McGuire Photography…Ingredients for a Bridgerton inspired wedding…
Take one part swoon-worthy designer gowns, mix with 3 parts gasp-inducing jewels, 5 parts over the top florals, swirled with 3 parts exquisite china and crystal, stir in a dashing groom and lovely bride, intoxicating cocktails and top with delectable desserts and viola' you have a wedding fit for a Duke and Duchess!
Who hasn't been swept up in the visual feast that is Netflix's most-watched series EVER?! Well, the team behind this stunning fine art editorial was completely smitten with it and decided they absolutely must do an editorial to showcase how to incorporate Bridgertonesque details into a modern luxury wedding.
Since European travel is still not feasible, the team chose a stateside location that has all the grandeur and exquisite antiques of a fine English country house, right in the heart of downtown San Diego. The Westgate Hotel was the backdrop for an elegant fine art editorial filled with stunning details.
We're so excited to share with you the ethereal images overflowing with grand design from Tularosa Flowers, exquisite tabletop from Hostess Haven, couture cocktails from Bubbles and Brews, all planned to perfection by Love Always Planning.
Our lovely bride looks utterly charming in 2 luxurious gowns from Marchesa Bridal and Halfpenny London, both from En Blanc Bridal Boutique. Crowned with an incredible handcrafted golden thread and jeweled tiara from Edera bridal, soft and romantic make-up and hair from KC Witkamp and exquisite kitten heeled, bow-adorned pumps from Something Bleu.
No wedding ensemble would be complete without breathtaking jewels, and the diamond and sapphire ring from Everett Fine Jewelry are everything an aspiring Duchess could want.
Our Duke is resplendent in 2 looks as well. First, a blue and champagne velvet brocade jacket and double-breasted waistcoat with white silk hand-tied bowtie and pocket watch pin all from Giovanni Testini available at Suit Fellas, and a second look in a champagne dinner jacket adorned with a jeweled lapel pin. Sapphire blue velvet quilted loafers complete the look adding that touch of luxe.
The Westgate's Versaille Ballroom is the perfect backdrop for a grand wedding and Wedding Designer Dawn Weisberg of Tularosa Flowers designed a breathtaking installation on the hotel's iconic gold and marble fireplace. Vines and greenery grow up the mirror and cascade over the edge creating a dramatic and romantic backdrop for the ceremony. Garden roses in nude combine effortlessly with blush lilies, blue delphinium, cobalt anemones, variegated mint green hydrangea, and green hellebores to create an installation that is wildly modern while being rooted in a traditional vernacular.
The aisle is decorated with alternating growing flowers and vine-covered candelabra nestled amongst groupings of antique furniture for the ceremony seating, creating a grand entrance for the bride.
One of our favorite ways of incorporating Bridgertonisms, is in the cocktail menu and cocktails created by Jucy Bartending for Bubbles and Brews. We thought Lady Whistledown's Scandal Sheet would make the perfect cocktail menu and Papertree Studio created a stunning version, as well as an invitation suite fit for a princess.
Cocktails of the Court – Titillating Libations to quench or fan the armourous fires?
The Duke
2 parts dashing dry wit and dry vermouth with 3 parts Gin of the Empress to intoxicate the lovely lasses, a touch of Giffard Pamplemousse to soften their protestations and enliven the senses, with a healthy dose of daring Butterfly Blue tea and a twirling twist of sensual citrus. Shake vigorously with manly vigor and top with a delicate blossom to entice the ladies.
The Daphne
Perfectly proper London Dry Gin meets daringly bold and sensuously sweet Triple Sec in a heavenly swirl of lemon juice and egg white foam with just a dash of sugary sweetness. A topping of couture cocktail art will be sure to have the lads enraptured with this modicum of beverage bodaciousness.
The Lady Whistledown
Shrouded in secrecy the Elderflower cordial and gin infusion of this most improper potation will have even the most rigid of matrons twirling round the ballroom. Nose tickling bubbles will set the ladies giggling with speculation as to the mystery ingredients.
It wouldn't be English without tea, so why not incorporate high tea elements into the usual cocktail hour. The Westgate's high tea is a perfect pairing complete with finger sandwiches, petit fours, macaroon, and pastries. Perfect tidbits to tantalize the palate before a sumptuous meal.
Reception for the wedding was dreamed up as an intimate affair in a private suite of the Hotel, perfect for a smaller-scale wedding. With walls paneled in exquisitely figured blush silk jacquard, it's the perfect setting for a sumptuous meal. The reception decor designed by Tularosa Flowers is set with celadon-colored Peau de Soie linens from La Tavola, vintage brass flatware, blue and white toile dinner plates, with a seafoam green salad plate and light blue linen napkins, and gold-rimmed cut crystal stemware, all from Hostess Haven. Toile vellum place cards from Paper Tree Studios complement the look and florals from Tularosa in vintage porcelain and crystal vases with flower-adorned candelabra complete the classically styled table decor.
The bridal portraits from Carrie Mcguire Photography are beyond stunning. Veiled in delicate silk tulle from Daphne Newman. The bride looks like the epitome of a Duchess to be. What's left for Bridgerton worthy wedding? Well, we can't forget the lingerie! Your something blue can be this lovely and delicate embroidered lace set, or a classic white ensemble complete with side bows and puff sleeves, designed by Joy Proctor for Girl and A Serious Dream in delicate French lace
Lest we forget our other romantic heroines, our Marina is resplendent in a butterfly and petal embellished ballgown from Liz Martinez and gold and pearl hair wire from Edera.
But what wedding would be complete without a glorious cake? This beauty from Hey There Cupcake is a masterpiece of sugar artistry. The blue and white toile pattern is echoed in the cake's elegant fondant finish and is topped with lighter than air sugar art and delicate wafer butterflies. We are all for letting them eat cake, especially when it's one as exquisite and delicious as this!