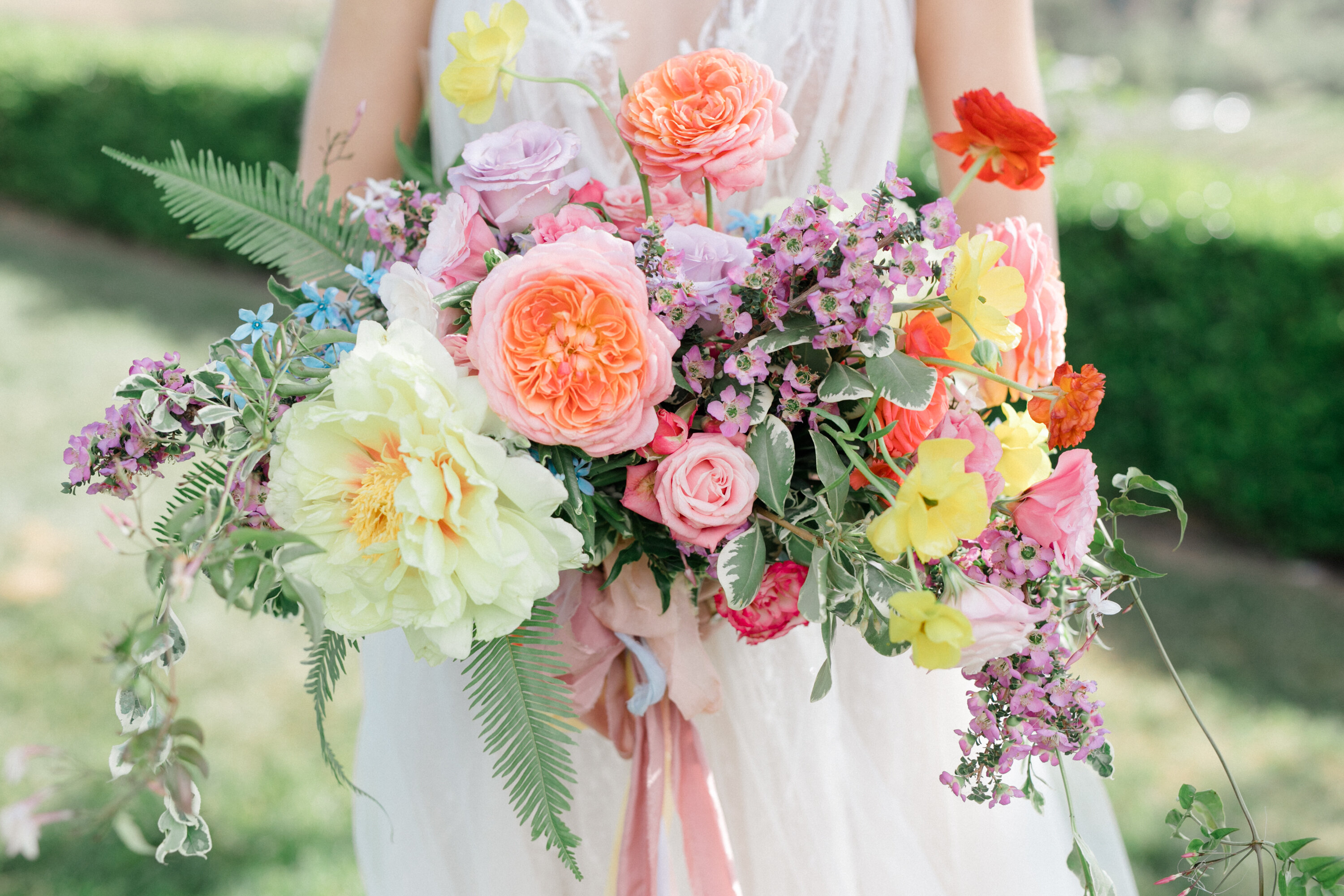 We were inspired by the beauty of the rolling hills covered in grape vines at Callaway Vineyard in Temecula to create a design that felt like the vines were taking over everything. A little bit fairy tale, a modern romance, tons of flowers set against a backdrop of acres of lush green vineyard.
What's more romantic than the fairy tale story of Sleeping Beauty awakened by her handsome Prince amidst the overgrown rose briar? Dawn Weisberg of Tularosa Flowers envisioned a modern spin on the classic tale with subtle hints of the Gothic fairy tale coming to life in the ceremony design of a deconstructed Medieval Chapel covered in grape vines and overgrown flowers. Michaela of Compass Design Events coordinated the editorial seamlessly to ensure a smooth and productive day for everyone, bringing together all the vendors and creating timelines that kept the shoot on schedule. Enticing Tables fabricated a gold metal Gothic arch created just for the shoot and Tularosa Flowers covered it with wild and vibrant flowers and fresh grapes.
Vineyard cross back chairs from Rustic Urban Events were the perfect ceremony chair for a ceremony set up in the heart of the vineyard with limitless views.
Photographer Carrie McGuire captured the sun drenched hills, romantic couple and bold colors of the tablescape engulfed in meandering vines and flowers with effortless beauty. Tabletop rentals from Hostess Haven have the feel of Old World elegance you'd find in a French Chateau with linens and classic Louis XIV chairs from APR Boutique Event Rentals. Of course no vineyard wedding would be complete without wine, so we celebrated the bounty of Callaway with a bold red, a white and a sparkling rose' and the use of grapes in both the table and ceremony design, something at once unexpected and yet classically European. I'm always trying to surprise and delight in my wedding design, we want to take the bride and groom and their guests on a journey, it's part of what makes weddings so special, says Dawn.
The design created by Tularosa Flowers incorporates fruit and flowers to evoke the feeling of a still life painting. Using bright colors against the backdrop of verdant green hills of the vineyard, yellow tree peonies, bi-colored foxglove, French tulips, light blue tweedia, rannuculus, fresh green grapes, bright cherries and a riot of boldly colored garden roses, is meant to inspire even traditional brides to embrace the use of vibrant color when paired with an elegant and classic backdrop. The color palette was inspired by an amazing Marchesa Gown, covered in bright embroidery against a background of grey tulle. We used vines that appear to grow directly out of the vineyard and up the table for a decadent lush floral story. The bridal bouquet is like holding a summer garden in your hands.
Love Jenna K created curled handmade place cards that echo the feel of a fairy tale scroll with gold lettering against a grey marbled paper. She also designed a custom stationary suite for the editorial incorporating grapes and flowers into a beautiful crest to compliment the vineyard location. We wanted to blend all of these unique elements into the shoot to really honor the setting and the concept behind the design.
Against this saturated backdrop, the bride, captured beautifully by Carrie is wearing the Celine gown designed by Liz Martinez in an ethereal champagne colored tulle with an underlay of embellished embroidery that gives the subtlest of sparkle, available at En Blanc Bridal Boutique. Also from En Blanc, a silk net chapel length veil from Daphne Newman is the perfect compliment to the cathedral like ceremony design. Girl Meets Bongga created a softly natural look for the bride and a loose up do with intricate braid. The groom is dressed in a classically elegant white dinner Jacket from Friar Tux, that hearkens back to dashingly handsome men of a bygone era.
A three-tiered cake from Cakes to Celebrate is the perfect accompaniment to a sparkling rose' from Callaway, a fitting ending to this fairy tale vineyard wedding.